How Marketer and Machine Will Learn to Work Together
Download our NEW white paper to discover how to perfect the balance in Artificial Intelligence Marketing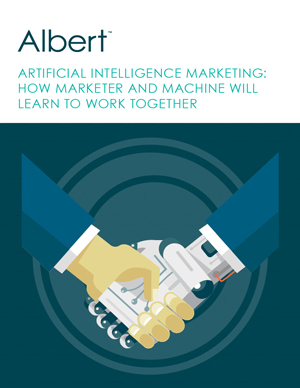 Cognitive technology promises to solve many of the problems that plague modern marketing today, but only if companies are honest with themselves about what problems are relevant and what causes them. AI will allow marketers to refocus on understanding customers and crafting messages that appeal to their needs.
Before this can happen, marketers must learn to trust machines to handle a certain amount of the work they do today so that the two parties can effectively collaborate and add more value to their organization. The more faith marketers put into the possibilities this new future could bring about, the more productive the eventual solution will be.
Download our new White Paper today to learn:
How to create a cooperative, calculated balance key to effective human-machine collaboration
Why AI marketing makes sense in today's big data world
What blackbox marketing vs. glassbox marketing is and why it's important to seek out a glassbox solution
Best practices for implementing cognitive technologies including organizational structure recommendations
Get My Free Copy!
The information you provide will be used in accordance with the terms of our privacy policy.