What is Artificial Intelligence (AI) Marketing?
Download our NEW white paper to discover how Artificial intelligence Marketing can deliver exponential results to your business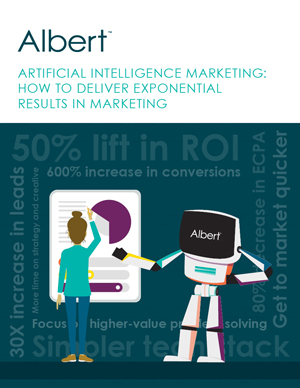 Marketing today has become too complex – there are too many channels, devices and technologies in our marketing stacks – creating a tsunami of data that is no longer humanly possible for marketers to sift through, manage and make sense of. This makes the art of campaigning extremely time-consuming and inefficient.
Artificial Intelligence (AI) Marketing promises to help both large enterprises and smaller businesses remove the complexities of modern day marketing and digital campaigning, while simultaneously delivering exponential results to the business and reducing operational costs.
Download our new White Paper today to learn:
What AI Marketing is and why it matters now
How to integrate it into your current technology stack (and how it will help you reduce the cost and complexity of your stack)
Why predictive and machine learning alone are not enough and how AI goes beyond currently methods to deliver prescriptive solutions
Marketing efficiencies vs. inefficiencies
Get My Free Copy!
The information you provide will be used in accordance with the terms of our privacy policy.