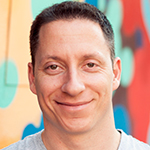 As CEO and founder, Or Shani is the visionary and brain child behind Albert—the world's first and only self-driven marketing and advertising platform.  
Albert is the marriage of Or's deep-seated knowledge of programmatic buying and predictive analysis, and his frustration with the inefficiencies of widely-accepted digital advertising practices, such as manual "optimization" and assigning "experts" to each individual advertising channel. Prior to Adgorithms, Or spent a decade working in online advertising, primarily as a data scientist and ultimately as a VP, Marketing, for Supersonic Ads, Online 365 Ltd, Playtech Group, and others.
Or is a member of the Forbes Technology Council and the Young Presidents Organization (YPO). He's also regular contributor to publications including Forbes, Wired, AdExchanger, CMO.com, Marketing Land, and others.  He is also the founder of the AI Marketing Association.