AI – The Next Generation of Marketing
Driving Competitive Advantage Throughout The Customer Lifecycle
A commissioned study conducted by Forrester Consulting on behalf of Albert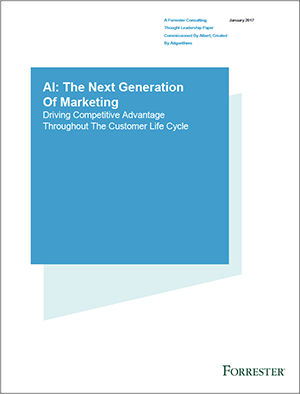 AI is poised to elevate the power of marketers' data capabilities and enable powerful contextual marketing programs. Yet as this new category emerges, AI-driven marketing is not well understood by marketers today, and organizations who don't set the stage for catching up risk further widening the competitive gap with their more advanced peers. 

Download today to learn:
Perceptions and misperceptions of current contextual marketing practices

AI-driven marketing benefits and challenges and how to overcome them

Recommendations on next steps marketers should take to adopt AI-driven marketing
Get My Free Copy!
The information you provide will be used in accordance with the terms of our privacy policy.