Five Ways AI Will Set Your Marketing Campaign on Fire
Download our latest eBook to learn the results of a recent DMN-Albert study looking at AI in the marketplace.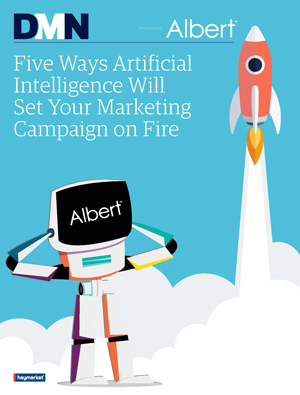 AI liberates marketers from the manual, time-consuming tasks demanded by digital marketing campaigns, such as wading through mass amounts of data. It can also help to convert that data into insights and autonomously act on these insights.
Artificial Intelligence allows the modern marketer to consolidate efforts by replacing, consolidating and automating many of the systems and tasks that would otherwise depend on siloed, manual efforts; freeing them up to focus on the high level creative strategy to meet the consumer's personalization demands.
This eBook explains five ways AI systems can ramp up marketing capabilities and put your organization on an accelerated path to increased revenue including how you can:
Create seamless cross-channel execution
Identify completely new audiences
Serve insights and recommendations on a silver platter
Make smarter investment choices
Exceed KPIs and other revenue targets
Get My Free Copy!
The information you provide will be used in accordance with the terms of our privacy policy.