Digital marketing tools and technologies can be broken down into three overarching categories, but only one will get you the results you need.
As digital marketing has developed and evolved over the years, the tools we use to manage its growing complexities have evolved alongside it. Tech has raised the ceiling for how targeted campaigns can be, how many channels they can exist on, and how carefully they can be optimized by taking on more and more of the work that in the past had to be performed manually by marketers. From the beginning of digital advertising and marketing to the present, there have been three categories into which every piece of adtech/martech can be placed.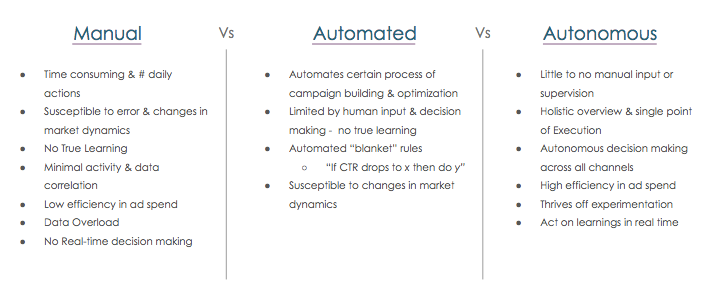 Manual Marketing Tools
First come manual tools, which can simply be defined as a simple solution, like microsoft excel, that allows marketers to complete very specific tasks, but in a manual way. The shortcomings of these tools are pretty self-evident: if you're using a spreadsheet to do data analysis, for example, manually punching in all the relevant information is going to be both time-consuming and prone to human error. These solutions aren't as effective because humans will never be as good as machines at collecting and interpreting large volumes of data.
Automated Marketing Tools
Next, we have automated solutions, which certainly represent a big step up from their manual predecessors. At this stage, the tools are capable of automating some tasks, but still require human supervision in order to function effectively. Not only are automated tools incapable of making campaign decisions on their own, but they also rely completely on human users to analyze and interpret the data they collect. In other words, they cannot communicate recommendations based on insights or make decisions.
Autonomous Marketing Tools
An autonomous solution like Albert™, the first digital marketing platform built from the ground up on AI, always comes out on top for a few reasons: it requires little to no input or supervision from humans and is completely autonomous in that it acts on data, learns from its media buying decisions, and adjusts accordingly. Furthermore, it accounts for factors ranging as widely as audience segment preferences, time of day, browsing behavior, and geographic location. Whereas an automated solution simply sets rules, autonomous solutions are much more dynamic and fluid, creating flexible guidelines that are constantly being reworked to ensure maximum optimization and ROI.
Although many marketers are more comfortable with automated tools as they believe they give them more "control", the truth is that they create inefficiencies and slow them down. The level of data analysis required to remain competitive is more than any one marketer — or even a team of marketers — can reasonably do without the help of an autonomous solution.
Essentially, it comes down to knowing our limitations. Our brains might be gifted at analysis, but we can't be everywhere all the time. Albert, on the other hand, sees the whole picture and is always testing, absorbing enormous swathes of data in real time and making educated predictions that might have never crossed your mind.