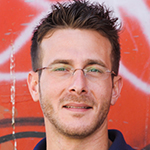 by Oren Langberg,
Lead Sales Engineer
Fears that automated cognitive technology spells the end of the human workforce are unfounded: an appropriate balance of man and machine will lift customer value and human productivity to new heights.
A recent Forrester report should put alarmists' fears to rest – machines are not going to have a negative impact on the job market. In fact, the integration of cognitive applications could actually create more jobs and free up valuable human resources to focus on more rewarding, high-level work.
For creative marketers, this means less time spent crunching data and executing administrative tasks, and more time focusing on the work they love. Far from replacing human workers, cognitive technologies will depend on and support their human counterparts. Ultimately, the two forces will complement one another to maximize productivity, efficiency, and job satisfaction.
Leveraging Human Work
While such fear is often unsupported by the facts, it's hard to blame people for worrying about the impact automation will have on the workforce. Smarter technologies can perform more tasks quicker than human employees, and in many instances, can do so with more accuracy and efficiency. However, this principle is mostly limited to routine clerical and administrative duties that are monotonous and actually lock up valuable human talent.
Letting machines take over data entry, for example, means that a smart and capable employee can put his/her brain power to something much more worthwhile. As a senior manager at IKEA put it, "Today, we lose good people who don't want these super boring tasks… We're not afraid of robots because we see machines supporting workers, not removing them. Furthermore, they will make it possible for us to focus on more value-adding tasks." This is an especially important notion because happier employees make for happier customers.
For marketers, autonomous technologies will not replace the indispensable creative work they do, but will actually allow them to do more of it. Instead of processing and looking for correlations across thousands of data points, marketers can let a computer do it for them, and work with the insights it provides to produce better work.
Indispensably Human
Indeed, a major limitation of cognitive technologies is their lack of "creative nuance." Empathy and human connection are driving forces of successful marketing, so while a machine may be able to process massive amounts of information faster than any single person, it will never be truly understand customers, and people, on an emotional, intuitive level.
That's not to say that they can't help marketers better understand consumer behavior. On the contrary, the incredible analytical ability of autonomous marketing systems can give companies insight into the ways that users make decisions that a human never could.
Still, consumers notice when their interactions with brands lack that crucial human element. A U.K. study cited in MarketingProfs discovered that the average person has 146 unopened emails from brands sitting in their inboxes, and that they'd be 60% more likely to open had the subject lines been personalized. Despite the amount of supervision and manual work that traditional adtech and martech platforms require of marketers, they're still not capable of delivering experiences that are consistently unique across each customer's journey.
Autonomous, self-driving marketing platforms, on the other hand, are demonstrating an ability to anticipate and respond to customer needs in a way that former iterations of marketing technology simply haven't. This example points the way forward: machines must be relied on to do much of the heavy lifting that gives human employees the time and resources necessary to make customers feel as if their specific needs are being taken seriously.
Finding a Balance
In the end, finding the proper balance between automated and human marketing is critical to success. Indeed, Forrester warns against over-automating your processes, indicating that doing so will "drive customers away." The leaders who ultimately "win the marketplace" will understand that the relationship between human and machine marketers is much more nuanced, that human job roles will change, that processes will change, and that it is essential to "cognitive automation to customer outcomes."
Such is the role autonomous marketing will play. Part tool, part employee, it works in harmony with your team to develop the most effective strategies, leveraging your natural human talent.
To lean more the harmonic adaptation of  cognitive technology download our latest whitepaper, How Marketer and Machine Will Learn to Work Together.