Meet Albert,
Artificial Intelligence Software.
Cross-Channel, Cross-Device and Full-Funnel Digital Campaign Orchestration.
Click on the numbers in the image to learn more: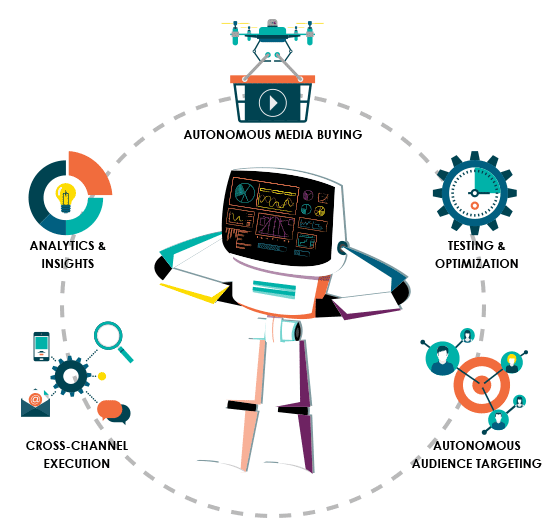 1
Autonomous Audience Targeting
With the amount of data coming in at any given time, and the rate and pace with which consumers evolve and change , finding customers and crafting and sending hyper-personalized messages remains one of the biggest hurdles for marketers. Albert enables marketers to rapidly find and target both existing and entirely new audiences they may have never thought to target before by testing and combining thousands and thousands of variables at a rapid pace and scale. He looks at geography, demographics, behaviors and interests, as well as other customer data points to do this.
2
Testing & Optimization
Albert automatically tests and launches hundreds of "micro campaigns," each of them structured to test a strategy that his algorithm has identified as having a high probability of success. He not only tests hundreds of different campaign variants, but keeps them running long enough to determine which ones should be scaled up and which should be abandoned. Albert will also tell you about the testing he has done and what he has found along his journey, as well as automatically apply those learnings when faced with similar situations in future digital , and offline, campaigns. Albert leaves no stone unturned, testing and optimizing thousands of campaign variables in a fraction of the time it would take a human marketer.
3
Autonomous Media Buying
Autonomous media buying is when an artificial intelligence marketing platform performs digital media buying for you. As opposed to the classic media buying system which is completely human dependent, autonomous media buying requires little to no human interaction or supervision. It also differs from programmatic systems in that those systems still require frequent, manual human intervention. These systems are also susceptible to widespread ecosystem inconsistencies such as ad fraud and viewability issues
4
Analytics & Insights
Albert is always learning, analyzing and offering proactive insights on what's he found and what he will, and you should do as the marketer, next. Channel investment decisions are made on the individual and combinational levels and are always evolving. He determines the respective attribution for each channel, the best mix of marketing investment, and offers proactive recommendations for the most efficient current and future campaign environment.
5
Cross-Channel Execution
The benefits of Albert's cross-channel, cross-device expertise can only be described a new found freedom from the shackles of modern marketing. Revenue can be scaled quickly as Albert identifies prospects previously unidentifiable with manual, siloed efforts. Concern for overspending and dedicating unnecessary man hours spent on underperforming efforts and channels are a thing of the past as Albert make the most accurate investment decisions possible while, at any given moment, based on his analysis and insights.