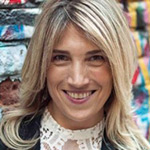 Amy is one of the highest ranking women in the artificial intelligence marketing space, having paved the way for AI to thrive in an industry that wasn't prepared for its arrival.
In August 2016, Amy led the launch of Albert, ensuring that the autonomous marketing technology was first to market, ahead of technologies like SalesForce's Einstein. Due to Amy's strategic launch of Albert, Albert is now one of the most widely-adopted business AIs on the market. Her early work in the space additionally resulted in the introduction of an entirely new category: "AI Marketing".
Amy has won several awards and some of the industry's highest honors for her work with Albert, including being named "Marketing Executive of the Year" twice (Stevie Awards, The International Best in Biz Awards), being inducted into the DMN Hall of Femme, and winning two platinum Marcom Awards for her go-to- market strategy for Albert.
Amy serves on Forrester's B2B Leadership Advisory Board, as well as DMNews' Client Advisory Board. She holds a BA in Communications and English from Boston College and lives in Greenwich, CT with her family.